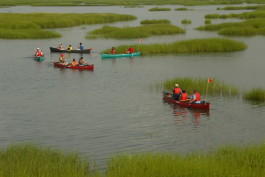 Come explore the Charles E. Wheeler Salt Marsh in a guided canoe tour with the CT Audubon Society. The marsh has a wealth of birds, wildlife, and beautiful views. Dates for the tours are July 18th (12:15pm-2:45pm), August 1st (11:30am-2pm), and August 29 (10:15am-12:45pm). Make sure to pack a lunch or snack, plenty of water, and wear shoes you don't mind getting wet! Canoes and equipment will be provided. Inclement weather (such as wind or rain) may cause the trip to be cancelled so make sure to call the Coastal Center for information before at (203) 878-7440. Be sure to pre-register as spots fill up quickly. 
To rent a Coastal Center canoe the fees are:
CAS Members $27/person, $69/canoe (3 people)
Non-members $35/person, $95/canoe (3 people)
To use your own canoe fees are:
$20 CAS Members, $30 Non-members
Get all the details on their website! 
(Image courtesy of CT Audubon)